Calling all Baltimore area middle school females! Join us for a cyber filled week of interactive cyber activities, personal development and engaging sessions with successful women in STEM! Participants will gain: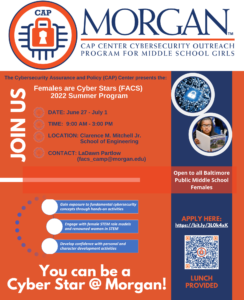 Exposure to fundamental cybersecurity concepts
Interactive hands-on activities
Practical real-world experiences
Female engineering mentors and role models
Talks from renowned women in STEM
WHEN: June 27 – July 1 || 9:00 AM – 3:00 PM
WHERE: Morgan State University, Clarence M. Mitchell Jr. School of Engineering
For additional information, please contact Mrs. LaDawn Partlow at facs_camp@morgan.edu
The registration deadline is May 21st and spaces are limited, so please register early.