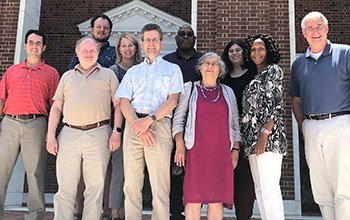 NSF advances frontiers of cybersecurity research
June 12, 2020
Cyberspace must be secure and reliable in order to continue driving U.S. commerce and innovation, which is why for years NSF's Secure and Trustworthy Cyberspace (SaTC) program has supported research that explores ways to create safer computing systems and online experiences by combining innovative approaches from across scientific disciplines.
NSF continues SaTC's socio-technical approach to cybersecurity research this year through a $20 million investment into two new Frontiers awards – one focused on cybersecurity and privacy in smart homes, and the other to study the collection, sharing and monetization of personal data in web, mobile, and Internet of Things (IoT) based systems.
Over the course of 5 years, interdisciplinary teams will take a comprehensive approach to these fundamental cybersecurity challenges, producing research, educating students and early career scientists, and looking for ways to transition promising research ideas into practice.
"Cybersecurity is one of the most significant economic and national security challenges facing our nation today," said Nina Amla, lead program director of the SaTC program. "NSF's investments in foundational research will transform our capacity to secure personal privacy, financial assets, and national interests. These new Frontiers awards will enable innovative approaches to cybersecurity and privacy, with potential benefits to all sectors of our economy." This year's Frontiers projects, described below, join a broad portfolio of over 850 SaTC awards NSF has made over the past seven years addressing timely and critical cybersecurity challenges.
ProperData: Protecting Personal Data Flow on the Internet
The collection of personal data on the internet enables many useful services, but it can come at the expense of privacy for users and society as a whole. This Frontiers award goes to a multidisciplinary team of four institutions that will improve existing systems of data flow on the internet and identify new ways to protect personal information. Led by the University of California, Irvine, the team will use computer science, policy, and economics in an effort to provide more transparency and control across the web, mobile, and Internet of Things.
"We are very excited to launch this NSF SaTC Frontiers center to address the urgent need for protection of personal data flow on the internet," said Athina Markopoulou, lead researcher at UC Irvine. "We bring together a multidisciplinary team of outstanding researchers that will build fundamentals, create new technologies, and inform policy so as to improve the transparency and control of personal data for the coming decade."
SPLICE: Security and Privacy in the Lifecycle of IoT for Consumer Environments
This Dartmouth-led Frontiers award will examine the human, social, and technological scope of security and privacy challenges emerging in smart homes. The project team spans seven universities and shares the goal of developing new scientific insights that enable people to live in a trustworthy smart home, one whose security they can understand and manage, and with strong mechanisms to protect their privacy. The team will explore issues in a range of smart home environments to identify data flow across smart devices and develop techniques that shift the burden of managing privacy away from end users.
"SPLICE brings together a team of leading experts eager to strengthen our scientific understanding of privacy in smart-home technologies," said David Kotz, lead researcher at Dartmouth. "Through this research, we hope to develop techniques that will help residents of these homes understand, configure, and manage their privacy as they live with these increasingly advanced technologies."
More information about the SaTC program can be found on NSF's website.